You say mountain chalet and immediately think of wooden walls and beams, sloping roofs, and a spartan atmosphere. Not so for Villa Bacchini, a historic residence in Cervinia, damaged by an avalanche in 1980 and rebuilt as it was originally. Purchased by a London family, today the villa is a very luxurious home for a new concept in mountain hospitality.
First built in 1936, Villa La Fenice is located just above Cervinia and offers breathtaking views of the Matterhorn and enviable proximity to the ski slopes. Surrounded by lush green meadows in summer and unspoiled white nature in winter, the residence is perfect for a ski holiday, for those who love to be surrounded by a luxurious and highly comfortable environment.
Discover Icaro, an art hotel in Dolomites
The Phoenix: a 5-star chalet
Cozy and super-equipped, the chalet combines the spirit of the mountains with the comfort of 5-star hospitality, and belongs to the circuit of luxury chalets. The villa covers an area of 1,200 square meters, on six levels, including the basement, where the technical rooms are located. The new layout includes seven double bedrooms, a living room, a more private living room, a kitchen available to guests, a dining room, and a buffet area.
The project, by architect Mariapia Bettiol from Aosta, and contractor Concreta, fully respects the spirit of the mountain. Therefore, due to the obligations, the facade has been restored to the original. The interiors feature wooden walls and floors with the rustic look of mountain huts, thanks to old recovered larch boards. However, the stairs and the basement are in stone, for more practicality. The original stone has been partly reused, integrated with local stone, for the facade, even for the stone parts. The furnishings are designed to offer maximum comfort, with materials such as velvet, leather, wool curtains.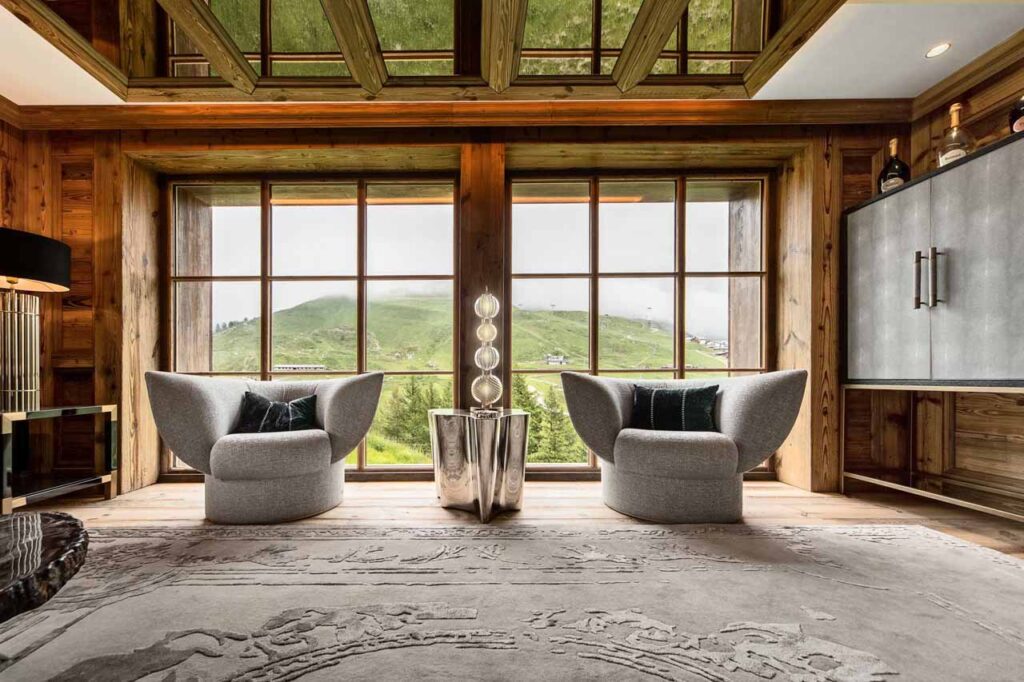 Private rooms and common areas
The seven rooms, all with private showers and bathrooms, are enriched by the presence of dedicated walk-in closets. The luxurious furnishings and the view of the valley with the morning sun, are perfect to open eyes in the morning; the view of the Matterhorn from the bathrooms makes waking up the best part of the day. The spa features a large indoor pool with a sauna and Turkish bath, with the outdoor hydromassage surrounded by snow. On the same floor as the spa there are a gym, games room and massage room.
The chalet La Fenice, independent and surrounded only by grass and snow, is accessible only by off-road vehicles; guests arrive here with the transport offered by the organization, SUV, or snowmobile. The entrance, under the swimming pool, therefore very scenic, passes next to the wine cellar and the Ski Room. All the architecture is exceptionally picturesque, from the facade framed by the Grandes Murailles, to the view towards the valley from the rooms and the spa, to the walls made of dry stone, or large larch boards. From the location to the architecture and the comfort of the furnishings, Chalet La Fenice offers an authentic 5-star skiing experience. ChaletLaFenice.com
Discover Icaro, an art hotel in Dolomites